Specifications
Model: QB6E-HD
Made in California, USA
CD Capacity: 13000 (downloaded in digital format)
Finish: Official Harley-Davidson Theme
Compatible with Mobile Phones and Tablets for Bluetooth streaming
5-Speaker, Dual 3-Way system for Live Performance Recreation (2x 3" Tweeter Speakers, 2x 6.5" Full Range Speakers, 1x 10″ Dual Voice Coil Powered Subwoofer)
48cm Touchscreen monitor
1 Terabyte of storage can accommodate up to 13,000 CDs, depending on compression preference
QSC 425 watt RMS amplifier
Can be linked to an Integrated Music System (e.g. Sonos)
USB Port
External Speaker Connections
Available in 115 V or 230 V [50/60 Hz]
Dimensions: (H) 61 1/2 in x (W) 33 in x (D) 19 1/2 in
Weight 245 lbs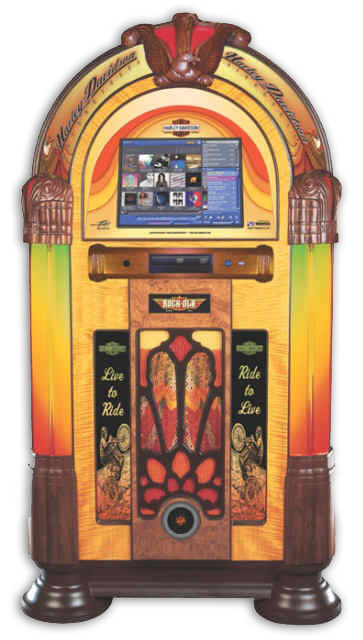 The Music Center Jukebox is the next generation in luxury music systems for the home.
It is a full-service music management system that allows you to load, organize and play your CD music collection with a touch of your finger.
EUR 12.495,00
incl. 19% VAT, plus shipping /
inkl. 19% gesetzlicher MwSt, zzgl. Lieferkosten
 All prices free warehouse Berlin. We offer delivery service by freighter or by our own delivery- and installation service. Please fell free to contact us for details.
Price

changes

,

supply availability

excepted

.