The Rock-Ola American Legend jukebox, licensed by the Harley Davidson Company, is popular world wide.
The American Eagle sets the theme for this icon Nostalgic jukebox featuring illuminated custom screened glass panels, arch lighting and pilasters. Intricate, expertly finished woodwork and molded accents at the shoulder and crown distinguish the Harley Davidson Nostalgic from the "rest of the pack"
Specifications
Made in California, USA
CD Capacity: 100
Finish: Official Harley-Davidson Theme
Compatible with iPod and iPhone
5-Speaker, Dual 3-Way System for "Live" Performance Reproduction
CD Player and Self-Adjusting Laser
Available in a wide range of finishes – Gloss Black, Gloss White, Walnut, Light Oak, and Black (wood grain effect)
QSC 425 watt RMS amplifier
Can be linked to an Integrated Music System (e.g. Sonos)
Electrical: 90-250 Volts [50/60 Hz]
Dimensions: (H) 61 1/2 in x (W) 33 in x (D) 27 in
Weight 310 lbs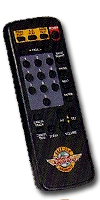 EUR 12.750,00
incl. 19% VAT, plus shipping /
inkl. 19% gesetzlicher MwSt, zzgl. Lieferkosten
 All prices free warehouse Berlin.
We offer delivery service by freighter or by our own delivery- and installation service. Please feel free to contact us
Price

changes

,

supply availability

excepted

.