The Peacock is Rock-Ola´s top of the line jukebox and includes all the classic features.
Six bubble tubes, rotating colors in the side column and the incredible "polarization of light" in which every feather in the Peacock plumes changes color independently from the feather next to it. The beauty of the Peacock is equaled only by the quality of its sound. This bird will sing all of your favorite songs with its fantastic sound system.
"Nouveau"-style cabinet with art-glass and -tube accents

Specifications
- 100 CD capacity magazine
- Peavey Amplifier – peerless low heat
- 1600 Watts RMS Power
- 5 Speaker, dual 3-way system for "live" performance reproduction
- External Speaker Connections
- Self-Adjusting Laser
- Dimensions: 63" H x 33" W x 27" D
. Weight: approx. 345 lbs.
- Remote Control included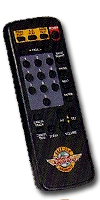 EUR 10.100,00
Prices incl. 19% VAT.
All prices free warehouse Berlin. We offer delivery service by freighter or by our own delivery- and installation service. Please fell free to contact us for details.
Price

changes

,

supply availability

excepted

.