Two major icons of American ingenuity and leisure culture combine in the Jack Daniel´s Jukebox, a celebration of the American tradition of "rugged individualism".
The Jack Daniel´s CD-Jukebox is the embodimentof the iconoclastic brands perfected by individuals who followed their passions and poured their souls into the making of distinctive, hand-crafted products. Bubble tubes on the sides and door front provide a mellow rhythm to the rotating and illuminated Jack Daniel´s pilasters. With its warm hues, luxurious exotic wood veneers and the distinctive "Old No. 7" logo etched in the glass, the new Jack Daniel´s jukebox is a perfect addition to home recreation room or bar and is as smooth as the Tennessee Whiskey of its namesake.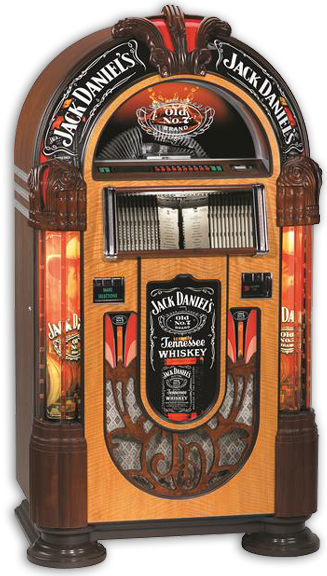 Specifications
Made in California, USA
CD Capacity: 100
Finishes available for this premium model: Walnut
Compatible with Mobile Phone and tablets for Bluetooth streaming
5-Speaker, Dual 3-Way System for "Live" Performance Reproduction
CD Player and Self-Adjusting Laser
QSC 425 watt RMS amplifier
Can be linked to an Integrated Music System (e.g. Sonos)
Electrical: 90-250 Volts [50/60 Hz]
Dimensions: (H) 61 1/2in x (W) 33in x (D) 27in
Weight 310 lbs

EUR 10.400,00
incl. 16% VAT, plus shipping /
inkl. 16% gesetzlicher MwSt, zzgl. Lieferkosten
All prices free warehouse Berlin. We offer delivery service by freighter or by our own delivery- and installation service. Please feel free to contact us for details.
Price

changes

,

supply availability

excepted

.