The Rock-Ola American Legend jukebox, licensed by the Harley Davidson Company, is popular world wide.
The American Eagle sets the theme for this icon Nostalgic jukebox featuring illuminated custom screened glass panels, arch lighting and pilasters. Intricate, expertly finished woodwork and molded accents at the shoulder and crown distinguish the Harley Davidson Nostalgic from the "rest of the pack"
Specifications
- 100 CD capacity magazine
- Peavey Amplifier – peerless low heat
- 1600 Watts RMS Power
- 5 Speaker, dual 3-way system for "live" performance reproduction
- External Speaker Connections
- Self-Adjusting Laser
- Dimensions: 63" H x 33" W x 27" D
. Weight: approx. 345 lbs.
- Remote Control included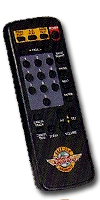 EUR 10.400,00
Prices incl. 19% VAT.
All prices free warehouse Berlin. We offer delivery service by freighter or by our own delivery- and installation service. Please fell free to contact us
Price

changes

,

supply availability

excepted

.