The most popular jukebox of all times has been meticulously reproduced in Rock-Ola's Series V Bubbler.
The bubbles of air perk merrily to the top of the 8 bubble tubes, while a kaleidoscope of colors flows through the translucent plastics. It's the 50's all over again when the changer flips the CD right down in front of you. All 17 trim pieces are genuine die cast metal, triple plated with copper, nickel and polished chrome.
Rock-Ola´s Bubbler jukebox exclusively has 4 revolving color cylinders with our top plastics constantly changing colors.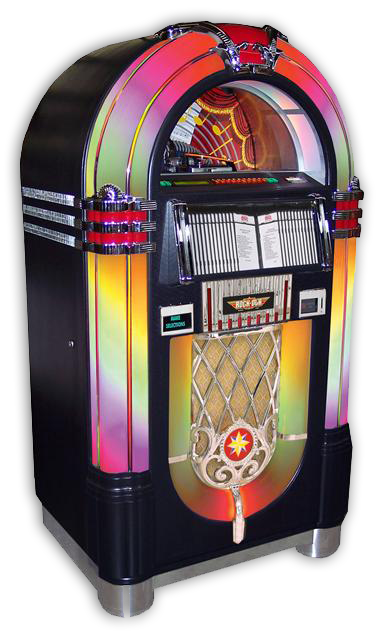 Specifications
- 100 CD capacity magazine
- Peavey Amplifier – peerless low heat
- 1600 Watts RMS Power
- 5 Speaker, dual 3-way system for "live" performance reproduction
- External Speaker Connections
- Self-Adjusting Laser
- Dimensions: 60" H x 33" W x 27" D
. Weight: 284 lbs.
- Remote Control included


EUR 9.150,00
Prices incl. 19% VAT.
All prices free warehouse Berlin. We offer delivery service by freighter or by our own delivery- and installation service. Please fell free to contact us for details.
Price

changes

,

supply availability

excepted

.